Back to all posts
Macramé
November 2021
Macramé might seem like a humble craft, but upon closer examination, you will find that it is a beautiful and artistic tradition that goes back for centuries. Here are some interesting things about the history of macramé!
Want to jump right into learning macramé? Check out our art box: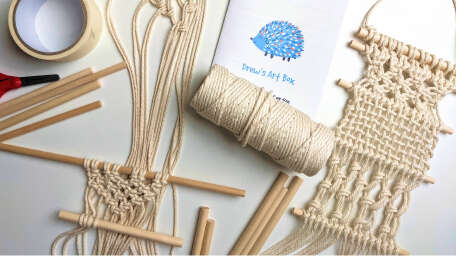 Macramé
This box features 7 video lessons about making a macramé, a textile art that is made using knots.
What is Macramé?
Macrame is an artistic method of crafting textiles by making a series of knots using cord or string. With macramé, you can create plant hangers, hammocks, belts, bracelets, dreamcatchers, necklaces, and more.
Where did it come from?
Though the Macramés that we see in many peoples' homes serve an interior decorating purpose, making knots has been a fundamental part of early human existence.
The earliest evidence we have of knot tying traces back to a particular 40,000 year old rope making tusk.
It was recently found by archeologist Ncholas Conard and his team in the Hohle Fels cave in Germany. You can imagine plant fiber to be inserted into the holes and twisted to create a strong rope. The rope made from the tool could have been revolutionary for their survival and used for things like tying sleds to dogs or humans, making baskets, and constructing bow and arrows.
A relatively recent discovery in 1991, showed even more astounding evidence of early knot tying. Ötzi the Iceman was found by German hikers Erika and Helmut Simon in the Alps. Of course, the hikers did not realize he was the oldest perfectly preserved body, from the neolithic era 5300 years ago, that predates the Egyptian pyramids! Ötzi was a very unique finding as he was fully in tact with all of his tools and equipment, including his right shoe!
And here's where the knots come in: the string is made of lime tree bast and is tied together with knots to form a guided pattern!
Fast forward many hundreds of years, 13th century Arabian weavers are widely regarded to be among the first people in history to use macramé as we know it today. Even the word macramé itself is derived from the Turkish word, Makrama. These creative pioneers used cotton, hemp, and jute to make functional yet beautiful things, the ends of which are secured with square knots (which we learn about in lesson 4 of our Macrame Art Box. The knots adorned the edges of shawls, veils, and other items.
As most organic things, many of the fibers used by people hundreds of years ago have descintegrated and washed away with the passing of time. But luckily, some of the evidence we have of the early knot tying was immortalized in stone sculptures such as those made by the Assyrians in 600-900 BC. The war-like people used knot tying to create intricate fringed articles of clothing. And as they charged into battle, they wore tunics and dressed their horses with ornate harnesses.
While macramé originated in the East, it inevitably made its way to Western Europe in the 8th century, when the Iberian Peninsula was occupied by the Moors.
And with the mingling of populations, knowledge of macrame spread from Spain to France and eventually England.
In 1890, Sylvia's Book of Macrame Lace was published, which boasted a complete compilation of the old and new knots known at the time. It recommended this form of fancy-work over embroidery and lacemaking, since the supplies are few and inexpensive, the process from start to finish is relatively quick, and, well, it's fun!
Feel free to flip through the book to see some of the knots and patterns, and what types of things they can be added to such as umbrella fringes, curtains, bags, clothing and so much more!
The designs in the book are a mirror image of what you might find as wall decor in anyone's living room today, which is a perfect example of how craft is repeatedly recycled throughout history, going infinitely in and out of style. What once seemed old and archaic can look perfectly ordinary today!
How sailors helped spread the use of macramé
While spending long bouts of time on ships and journeying across the world, sailors had a great appreciation for macramé as they used it to make baskets, sea chest beckets and more! Some of the work they made for their girlfriends, friends, and family, while others would be bartered in faraway ports around the world. As the use of macrame spread across the globe, different cultures added their own creative twist to the craft by creating unique designs of their own.
And that's how we come to today. Macramé is more than a technique for making things out of knots, it's a great craft and hobby, and an excellent way to work with your hands while exploring your artistic side. Interestingly, just as it was in the 13th century, the most common material to make macrame is cotton cord, due to its sturdiness, softness and low cost.
---
Want to read this offline? Feel free to print this post for offline reading!