Back to all posts
Dia de los Muertos
November 2019
Dia de los Muertos is not Halloween! Dia de los Muertos is a holiday celebrated widely across Mexico, Central America, and parts of the US on November 1st and November 2nd. It is a time dedicated to honoring and remembering ancestors and deceased loved ones through music, dance, storytelling, libations, and other festivities.
The holiday is often compared to Halloween, because the two are so closely timed. Indeed, if we go back far enough in history, we find that the origins of these holidays were linked to the fall harvest. Additionally, this time of year had special significance for many ancient cultures. During this "period of transition", we learn, "cultures across the world remember those who have passed on by drawing an analogy between human death and the dark, cold winter months that loom ahead". Despite these common elements of origin, the traditions and symbolism of Dia de los Muertos and Halloween are really quite different. This comes as no surprise given that these holidays evolved separately as a result of centuries of different religions and cultures colliding and intermixing. Like Halloween, Dia de los Muertos brings sweets, skulls, and skeletons, but importantly, none of the haunting frights and screams. It is a sacred holiday that is as much about death as it is about life.
Sugar skulls
A crucially important part of Dia de los Muertos is the ofrenda, which in Spanish means "offering". Special altars are created as tributes and offerings for relatives who have passed on. In addition to photographs, cherished items, special foods, and flowers, the ofrenda traditionally includes calaveras de azucar, or sugar skulls, as part of its display. Made of molded sugar and intricately decorated, calaveras de azucar are not typically eaten. Often times, a sugar skull is inscribed with the name of the person being honored.
Get into Dia de los Muertos sugar skulls with our art boxes: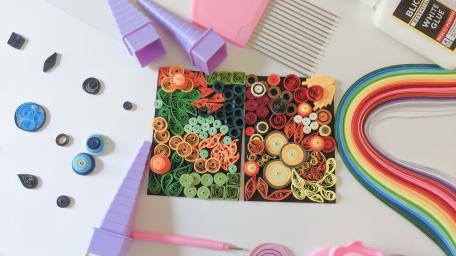 Paper Quilling Garden
This box features 7 video lessons about paper quilling techniques with plenty of supplies for two kids.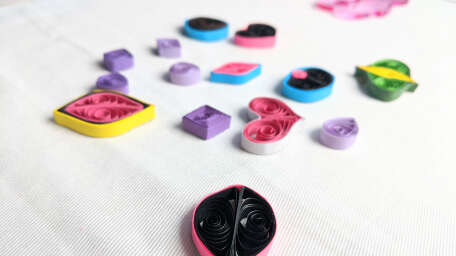 Paper Quilling, Part 2: Sugar Skulls (Videos Only)
Construct a sugar skull using an interactive app and learn more paper quilling techniques using supplies from part one.
Did you know?
Colorful skulls are iconic symbols of Dia de los Muertos and Mexican culture. But they don't all have to be made of sugar! They exist in many forms and materials— posters, murals, sculptures, and even as make-up!
When you see a skeleton lady dressed in fancy clothes, think La Catrina. This is the name given to a skeleton figure of a beautiful woman. This image was first invented by the artist Jose Guadalupe Posada as a social satire at the turn of the 20th century and popularized in a mural by Diego Riviera in 1947. That's a lot of art history to unpack! Read more about it here.
For your inspiration
Here are just a few of the many artists whose work explores the iconography of the Day of the Dead.
To learn more
Written by Anna Rogulina
---
Want to read this offline? Feel free to print this post for offline reading!